the Guardian wrote:
Authorities investigating 32-year-old Syrian national over incident in Limburg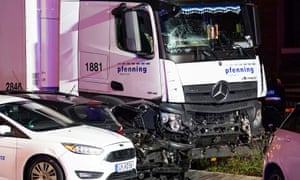 The lorry with some of the cars damaged in the incident in Limburg.
Photograph: Reuters
German authorities are investigating a man who drove a stolen lorry into a line of cars in Limburg in the western state of Hesse, injuring eight people.
The 32-year-old had pulled the driver of the vehicle from his cabin at a red light before using the lorry to plough into eight cars waiting at a light near the town's central railway station at about 5.20pm (1620 BST) on Monday.
The man, a Syrian national named as Omar AI by the national broadcaster ARD, was arrested at the scene.
Germany has been on alert following several jihadi attacks in recent years claimed by Islamic State. The most deadly was committed in 2016 by a 23-year-old Tunisian, who killed 12 people when he stole a truck and ploughed it through a Berlin Christmas market.
A number of German media outlets, citing security sources, reported that authorities believed Monday's incident to have a terrorist background. However, a spokesperson for the general public prosecutor in Frankfurt said they could not confirm a terrorist motive and were still investigating the case.
According to the news agency dpa, the suspect has lived in Germany since 2015 and was known to the police for a number of minor criminal offences including possession of drugs and theft.
However, he had no known links to Islamist extremist circles.
The Hesse state interior minister Peter Beuth urged people not to jump to conclusions. "Although the events recall the horrible attacks in Nice and Berlin, the motive of the detained man remains unclear," he said.
Marius Hahn, the mayor of Limburg, said he was shocked by the incident. "My thoughts are with the injured victims of the accident and their families," he said.